Get The Art Of The Escape Now
Never Get Stuck In A Bad Position Again…
Whether you've been training BJJ for a couple of sessions or a couple of years, you'll have experienced how awful it is to get trapped under an opponent unable to move and gasping for air.
It can be a truly miserable experience.
However, it doesn't have to be that way. You can escape most bad positions, providing you follow a few simple rules.
Step #1 – you have to stay calm. Panicking and flailing around will only make things worse.
Step #2 – you have to get safe (this is closely linked with step one). That means creating a strong frame that doesn't leave many submission opportunities for your opponent.
Step #3 – you need to create space.
Step #4 – you need to use that space to get to a better position. That could be a complete reversal or recovering to guard.
Don't get me wrong, it's always difficult to escape a dominant position against a skilled opponent, but the process for escaping is always the same.
What makes escaping more challenging in Jiu Jitsu is that it's dependent on the position you find yourself. That's where the Art Of The Escape will help!
Before we get into that, you might be wondering who I am and why you should listen to me.
The Story Of How I Got Good…Fast
Before we go any further, I should introduce myself. My name is Tom Barlow and I'm considered to be one of the best British-born Jiu Jitsu competitors ever.
What makes this amazing is, I managed this without a regular supervision of a Jiu Jitsu instructor.
My training was limited to an hour or two PER MONTH with my instructor, Braulio Estima, and training with my students and friends at my Academy in Plymouth.
One of the reasons I have been so successful as a competitor is because I recognised the importance of escapes very early in my Jiu Jitsu career.
Escapes not only allow you to survive, they also free you to try new things take chances in competition, and, if it all goes wrong, you can rely on your escapes to recover back to a good position.
Thanks to my understanding of escapes, solid systems, and a good work ethic I have won numerous Jiu Jitsu competitions, most notably, the No-Gi World Championships as a Black Belt three years in a row (2013/14/15)

I know a lot of people struggle with escapes, so I decided to do something about it put my escaping knowledge into an easily accessible instructional.
Introducing the Art Of The Escape…
This two-part instructional is broken into ten different sections. Each section then starts with how you stay safe, then how you build a frame, before teaching you the highest percentage escapes from that position.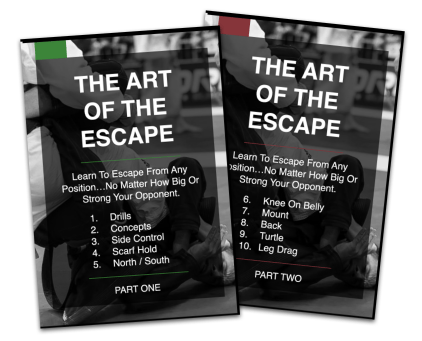 Check out the video below taken from the instructional that covers some essential Knee on Belly escapes.
Here's what's you'll learn:
Part #1: Essential Escape Drills
Bridge
Bridge to tripod
Shrimp
Bridge to shrimp
Monkey roll
Granby
Shrimp to granby
Turtling
Sit out
Hip heist
Part #2: Escape Concepts
Home alone
Build a frame first
How have to give energy to escape
Combine escapes
Part #3: Side Control Escapes
Build a frame
Re-gain guard
Arm trap and bridge
Arm bar or reverse triangle
Running escape
Single leg
Y escape
Part #4: Scarf / Open Scarf Escapes
Build a frame
Bridge and roll
Lapel push
Scoot to the back
Part #5: North / South Escapes
Single leg
Hip push to knee inside
Back take
Part #6: Knee on belly Escapes
Recover half guard
Back sweep
Part #7: Mount Escapes
Bridge and roll (grip variation: baseball bat, lapel, collar choke defence, trap and roll)
Hip escape (foot escape variations: drag, lift
Bridge and push
Part #8: Back Escapes
Scoot low (no control)
Shoulders to mat
Arm over head
Part #9: Turtle Escapes
Sit out
Arm trap and roll
Stand up
(x cross) ninja roll
Clear hooks & shoulder pull
Part #10: Leg Drag Escapes
Collar push
Calf Crush
Knee bar
Leg trap invert
That's a whole lot of escaping goodness from just about any position you may find yourself in.
Ready To Become A BJJ Escape Artist?
So you're probably wondering what The Art Of The Escape costs. I've seen similar instructionals with way less content sell for upwards of $77 – $97.
However, you won't pay any where neat that. For a limited time only, you can get the full instructional for only:
£37
£27
That's £27 for over 95 minutes of escape drills, concepts, and techniques goodness. To get instant access to the instructionals now click the button below:
Here's How To Get The Art Of The Escape Instructional's Today
Here's what will happen when you click the button below:
You'll be taken to a secure checkout page where we accept all major credit cards.
You'll be redirected to the download page the moment after you enter your payment details and click buy now.
There you'll be able to download the two instructional videos and all the bonus content. This is compatible with all devices so you can use it anywhere.
You'll receive two email from us one is your order confirmation and login details and other covers some important info about how to navigate the site.
Click the button below and get instant access to the Art Of The Escape Instructional now of only £37 £27
Our Guarantee
When I started selling instructional's, I made two promises to myself:
(1) The instructional's will ALWAYS be available to download if you lose them. (2) If you don't believe the cost of the instructional was worth the investment, I'll give you a full instant refund.
I stand by this guarantee today. So, if for any reason you're not 100% satisfied, let me know and I'll give you an instant refund. Or if you ever lose a copy of an instructional send me your receipt and I'll send you a new copy.