No training partner, no problem…
I'll show you how to

create a killer solo drilling session

that will actually improve your Jiu Jitsu.
There will always be some time in your Jiu Jitsu career that you can't physically train with a partner. For example,
You might get back late from work and miss your class.
You might get the dreaded ringworm and don't want to pass it on to your training partners.
Maybe you want to get some extra training in but don't have a drilling buddy.
Or maybe you're in the middle of a pandemic and can't leave you home.
Whatever the reason, just because you don't have access to a training partner shouldn't mean your BJJ development should stop.
While there's a tonne of things you can do to keep training when you don't have a partner, solo drilling can be one of the most beneficial.
A lot of people hate on solo drilling and you regularly hear things like "a dummy doesn't act like a person", "you get no resistance", "it's not the same as drilling with a person", etc.
I agree with all of that… solo drilling is never going to replace training with a partner.
However, that doesn't mean solo drilling isn't a valuable tool in your training arsenal. Just like lifting heavy things, or doing Yoga, solo drilling is a tool that can benefit your Jiu Jitsu if used correctly.
Solo drilling has it's advantages…
In fact, solo drilling has a few advantages over things like lifting or Yoga.
Firstly, and most obviously, you're replicating movements and transitions that are directly related to BJJ. A top spin is a top spin whether you practice it on a person or a heavy bag.
Secondly, solo drilling can improve your mobility in the ways specific to BJJ.
Finally, it can be a killer workout using the same muscles and energy patterns as you do in Jiu Jitsu.
There is also one advantage that solo drilling has over drilling with a real live person – you're not training with a person.
A dummy NEVER complains you're going to hard.
A dummy NEVER asks when do they get to train.
A dummy WILL stay on the mat as long as you like.
In my experience, the biggest problem most people find when they start solo drilling is they treat it like training with a person. It's not and will never be the same as training with a partner (it's better!)
But before we get into how solo drilling will benefit you, you might be wondering who I am and why you would want to listen to me about solo drilling.
How I got good… fast!
My name is Tom Barlow and I'm considered to be one of the best British-born Jiu Jitsu competitors ever.
What makes this more amazing is, I managed this without a regular supervision of a Jiu Jitsu instructor.
My training was limited to an hour or two PER MONTH with my instructor, Braulio Estima, and training with my students and friends at my Academy in Plymouth.
As a result, I had to get creative with my training and develop effective ways to train with limited or no partners.
It's this creative training (and some good systems) that helped me get my Black Belt in around 5 and a half years and win numerous Jiu Jitsu competitions, most notably, the No-Gi World Championships as a Black Belt three years in a row (2013/14/15)
As I mentioned earlier, due to my limited number of training partners and instructor being an 8-hour round trip away, I've solo drilling pretty much since I start Jiu Jitsu many many moons ago (15 years or so!)
I didn't really have another choice lol
I quickly realised solo drilling was very different from training with a person, and if I wanted to improve the way I approached solo drilling had to change.
At that point, I'd already been teaching and training martial arts a long time and was training a lot of CrossFit. So I started to incorporate similar training methods into my solo drilling and made it more goal and challenge oriented.
Challenge based training…
The first method I used was "Reps For Time". I'd set a timer for one or two minutes and try to do as many reps as possible of a drill in the time available. Then I'd rest and try and beat my score.
If you pick three drills and do each one for five rounds, you'll be dripping with sweat and gasping for air, particularly if you're overly competitive, like me.
While this method was great and will improve your technique, conditioning, and mobility, but it has its limits and doesn't develop a key area of Jiu Jitsu – your transitional speed.
Increase your transitional speed
Transitional speed is one of the big differences between skill levels. The faster you can recognise your in position to perform a technique, the more success you'll have.
Recognising this flaw in my solo drilling, I started experimenting with connecting two drills. I made sure the drills I chose where techniques I'd likely use in sparring or competition.
Around this time, I was heavily working on my wrestling, and because I hadn't mastered the double leg shot yet, I found I got sprawled on a lot. So I decided to try my know training method and spent a bunch of time solo drilling the double leg to sit out.
After a few weeks, a remarkable thing started to happen. As before, my opponent would sprawl on my poor double leg, but now I'd be out from under and on their back before they hit the ground. My transitional speed from double-leg to sit out had gone through the roof!
From then on, I started to find more transitions and combinations of techniques and practice them in my solo drilling.
That was way back in the mid-2000s, and I've added several other ways to make my solo drilling engaging and effective. I want to share those methods with you now.
Introducing The Super Solo Training Programme…
Super Solo Training Programme is split into 2 sections.
Section one is the Super Solo Drilling instructional which covers many of my favourite solo drills plus how to put them together to create an effective training session.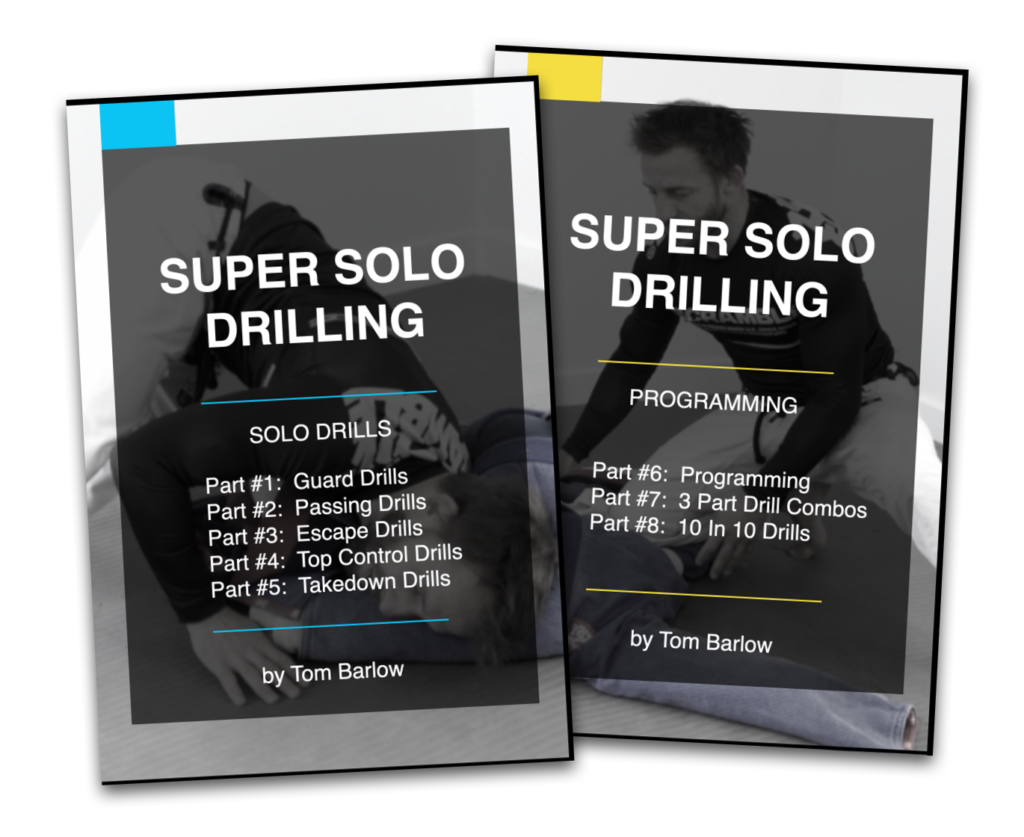 Here's a quick look at what's included in the course.
Over 100 drills across the five main areas of BJJ (Guard, Passing, Top Control, Escapes, and Takedowns) including how to do them and why you need to know them.
Seven training methods to create an effective solo drilling session in 10 minutes or less.
Seventeen of my favourite combinations – these combinations are common situations you see in Jiu Jitsu and will accelerate your transition speed.
Five 10 in 10 example sessions. These short session are a great warm up or can be stacked for a killer workout.
Sample solo drilling workouts so you can get started fast and see how to create your own training sessions.
With all the drills, workouts, combinations, I explain why you'd want to do them as well as how. This is crucial, as it'll help you understand your goals. Here's an example of how the drills are broken down:
In total, the Super Solo Drilling instructional contains over 5 hours of material (5 hours 12 minutes to be precise), which is available to instantly download as soon as you complete order.
Plus You'll Get 41 Done For You Super Solo Training Plans…
Section two of the Super Solo Training Programme is a collection of 41 (at the moment ?) plans and videos that are easy to follow, will give you an awesome workout and help your Jiu Jitsu.
Each plan is broken down into nine sections
Technical Area – there are 6 areas covered (Takedowns, Passing, Guard, Escapes, Top Control, Flows).
Objective – so you know what to focus and how you should drill.
Equipment – all of the plans are designed to be done with either no equipment, training dummy, or a belt.
Precautions – so you know any areas to be aware of and prepare.
Video – a short 5 to 10 minute video outlining the full plan, demonstrating the techniques, and what you're trying to achieve. (In total, that's over 3 hours of video).
Warm-up – some simple ideas or sequences to prepare your body for the workout ahead.
Work out – what you're actually going to do plus some ideas to increase or decrease the intensity.
Finisher – a short optional extra to end the training session with a bang.
Record – what to track so you can challenge yourself or your students next time.
The Super Solo Training Plans come as an eBook with downloaded embedded videos. This means you can take the plans anywhere, on any device whether it be laptop, mobile, tablet, or if you want to print out a hard copy.
To give you an example of what's included in the plans, here's a walk through of the training plans:
Click the button below to get the Super Solo Training Programme:
Get The Super Solo Training Programme Now
Here's some of the feedback I've received about the course:
"Thank you for the Super Solo Drills they are fantastic and have really helped my thinking and my approach" – ML

"I went through the escape series yesterday and really like it! Looking forward tot he next ones" – FB

"Thanks for creating this instructional, I really look forward to practicing" – AD

"Have had a chance to look through the content…..Fantastic stuff" – IK

"The transitional movements using the drilling combinations are a real eye-opener. Very useful…" – EC.

"Really great training system. I love it." – EG.

"Thank you for everything and all your hard work on them." – SS.

"Loving the plans. I've been looking for workouts that are a lot more movement focused (getting old), and so far they're looking really good. Thanks again!" – TB.

"I've seen a huge improvement in my movement and ability to visualise / train solo. 5/5 stars!" – DM.
No training dummy, no problem.
While a lot of the drills covered in Super Solo Training Programme can be performed without a training dummy, a dummy makes life much easier and more effective.
But you don't need to spend hundreds of pounds on a grappling dummy. You can make fantastic training dummy from stuff most BJJ players have laying around.
The video below shows how to make a DIY dummy that can be an awesome training partner if you don't have any other option.
All this sounds great, but what's does Super Solo Training Programme cost…
How much is the Super Solo Training Programme?
I've seen solo drilling instructionals with half as much content sell for $77 and up, and both the Super Solo Drilling instructional and Training Plans sold for £37 each.
However, the Super Solo Training Programme only costs
£74
£44
That's about a 40% discount and insanely good value for money considering the quality and quantity of information you're getting.
That might seem cheap, and it is, but I wanted to make it so easily affordable so anyone can learn the power of solo drilling.
To get your copy of Super Solo Training Programme click the button below
Get The Super Solo Training Programme Now
My Guarantee
As with every product I create, I do everything I can to make sure you're satisfied with your purchase.
I've never had a refund, that may change in the future, but that's why I'm confident enough offer you this guarantee.
If you don't think the Super Solo Training Programme course will help you improve your Jiu Jitsu then I'll refund your money.
Here's How To Get The Super Solo Training Programme Today
Here's what will happen when you click the button below:
You'll be taken to a totally secure checkout page where we accept all major credit cards.
You'll be redirected to the download page the moment after you enter your payment details and click buy now.
There you'll be able to download the instructional and all the bonus content. The videos are compatible with all devices so you can use it anywhere.
You'll receive two emails, one from Send Owl with the download links in case you navigate away from the page and one from me with some more information about the course.
Are you ready to start your solo drilling journey? Click the button below get instant access to the Super Solo Training Programme for only £74 £44
Get The Super Solo Training Programme Now