Since last September, we've been looking for a reliable supplier of custom apparel. Thanks to our friends at Scramble, we've finally found one!
As a result, I'm pleased to announce our first limited edition Kids T-shirt.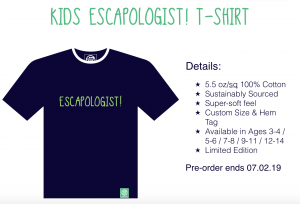 This design was based this on our original Fade T-shirt, but with more youthful colours and feel. The shirt is 100% sustainably sourced cotton, and a has a super soft feel. It will be available in sizes:
3-4 years
5-6
7-8
9-11
12-14
To launch the shirt (and help us decide on the quantity of each size to order), we're running a pre-order sale. If order a shirt before midnight on 7th February 2019 you'll get a 22% discount on the RRP.
To pre-order your shirt and save 22%, all you need to do is click the button below and complete your payment:
Pre-Order Now!