The Beginning
Rolling Dojo began as the brainchild of Luca Senatore and Mark Badham. They came together in 2017 with the goal of building a place for everyone to train: a clean, family-friendly environment for kids, hobbyists, and competitors alike. Rolling Dojo strives to be a welcoming and inclusive environment for all.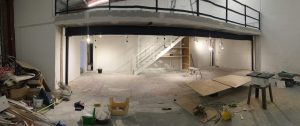 It was merely a coincidence that Luca and Mark met current head instructors Tom and Chelsea in late 2017, but what a happy coincidence it was. Tom and Chelsea brought their decades of teaching and training experience to the gym and Rolling Dojo quickly became one of the best BJJ academies in the area.
In mid 2021, Rolling Dojo officially rebranded to Escapology BJJ and became the headquarters of Tom and Chelsea's affiliation.
Today, Escapology BJJ has fulfilled its goal of being a safe, clean, healthy place to train. However, with Tom and Chelsea's extensive experience and life-long commitment to the art of Brazilian Jiu Jitsu, it is also one of the most highly-qualified academies in the region.
As head instructors, Tom and Chelsea are both active competitors at the top levels of the sport and hold multiple world titles between them. They are dedicated to continuous improvement and want to help their students become the best athletes they can be. Click here to learn more about Tom and Chelsea
Take A Tour
In this short video, Tom and Chelsea give you a tour of the awesome facilities at Escapology BJJ.
Here are just some of the facilities available at Escapology BJJ:
Two Full Matted Training Area.
Shower Room & Toilets
Changing Rooms.
Comfortable Waiting Area.
Pro Shop.
Reviews
Here are what some of our members say about training at Rolling Dojo
All the staff at Rolling Dojo are amazing. Always on hand to help and support with a friendly relaxed approach to training.

I find everyone at the gym extremely approachable, a great group of people to roll with.
Chris B.
Rolling dojo is a great place to train. Everyone is so friendly and the kickboxing and bjj are amazing! I look forward to going every week!
Lisa H.
Great place to train, everyone is friendly and willing to help. The coaches are all fantastic and the facilities are spot on.
Evan G.
Great place to train with a friendly and welcoming environment. The tuition is great. I have really enjoyed the classes I have attended. Luca's passion for martial arts is reflected at Rolling Dojo and I am excited to see it grow!
Ashley E.
The instructors are just amazing with the children. We started coming to RD about 4 weeks ago and we attend 2 kids classes a week. My children are welcomed ever week and have so much fun. Now it feels like family. The children learn something new every week and it is amazing to see their progression. The balance of play and learning is spot on too.

The dojo is amazing, and the teachers are humble and teach with welcoming arms and hearts. Bringing my children was the best thing I did and I also now train at the dojo. If you are thinking of coming….just do it!
Adam A.
Ready to get started?
If you'd like to get start training Brazilian Jiu Jitsu and Submission Grappling at Escapology BJJ in Cambridge, click the button below to get your FREE trial and learn more about our classse: